The West Team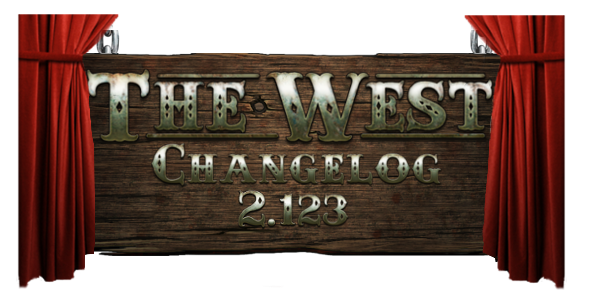 We are currently planning on updating the game to
version 2.123 on Tuesday April 14th.
Please keep in mind that the date, time and content of the update are subject to change.

Items settings
Some set or quests items you can not sell to the trader. We changed settings of 481 items:
Independence set,
Traditional Bavarian set,
Winter gear and tools,
Lover's set and Valentine's gear,
Easter Showdown set,
Thomas Jefferenson's set,
Ludwig's Oktoberfest set,
El Mariachi and La Catrina sets
Romeo's set
Jerry Easter set
Parade set
Johann's set
Rowe's set
Nicolas's set
Juan's set
Dead man walking's sets
Matoake's set
John Rolfe's set
Mayan's set
Saturiwa's set
Gnom's and Elf's sets
Provincial doctor's set
Carnival set
Blue and red soccer fan's sets
Thomas A. Edison's set
Spiritualist's set
St. Patrick's set
Gonzales' set
American set
Fort battle soldier's set
Collector's set
Cupid's set
Party set
Halloween set
Snowman's set
Gaucho's set
G. Washington's set
Colcord's set
Wright Brothers' set
American Football set
Prison Brother's set
Lonesome Cowboy's set
Hawaiian set
Deputy chef's set
Western Friday set
Union Officer set
Witch hat, Indian feathers, Red magic hat, Shepherdess's and Shepherd's canteen, Referee Whistle, Almighty Brown Tie, Shell necklace, Golden ice necklace, Bath robe, Soccer shirt,Summer poncho, Straw sandals, Soccer shoes, Ostrich, Soccer shorts and Invisible Pants.
Easter quests improvements
Questline "Finding Mr. Easter Bunny" is only available from 05.04.2020 at 00:00 until the 26.04.2020 at 00:00. However not all quests have the time requirement.

Sheriff doesn't load
(beta only)
After the "The new train station" quests are available, the sheriff refuses to load.
We hope you like the changes this update brings to the game. As always we are looking forward to
your feedback
!
Best regards,
Your The West Team