The West Team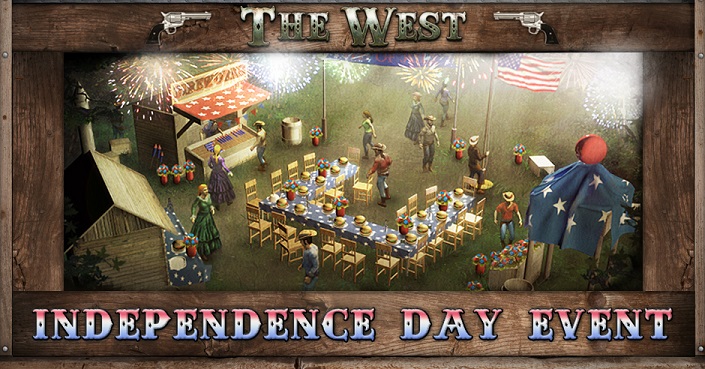 Howdy Cowboys and Cowgirls,
Welcome to our annual Independence Day event! It will run from
June 18th 11:00 am (CEST) until July 18th 23:59
.
General information:
Please find below some information about the event itself:
On every server the player with the highest streak will win the special weapon set. In case of two or more players having the same streak the system will chose the winner randomly.
First construction is for free, the others can be activated with nuggets/fireworks. (25 nuggets/1500 fireworks, 150 nuggets/9000 fireworks, 800 nuggets/48000 fireworks).
Players receive one point from the first construction, two points from the second, three points from the third and four points from the 4th.
Fireworks can be collected by doing jobs, duels, adventures, fort battles, town construction and from friends (20 fireworks every 24h)
Every 24 hours your friends can send you 20 fireworks. This works the other way around as well.
Rewards can't be migrated (e.g. player plays on speed server. The speed server event ends after the Independence Day event. Players who receive Independence Day event rewards will lose the items after the speed server was restarted.)
Players can check their ranks and the ones of players above and under them.
Choosing the first construction option (for free) players can receive rewards from all 4 pools. When choosing the second option you will be able to receive rewards from 3 reward pools, etc... .
Like for the last Easter event, you will now receive 5 fireworks yourself when you send 20 fireworks to one of your friends.
Event rewards:
Have a look at the reward pool, it was slightly changed: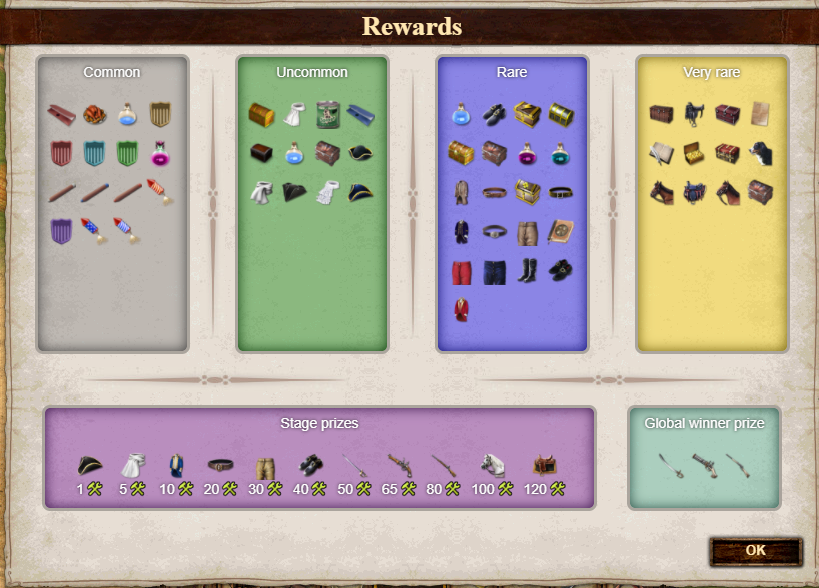 For construction in the event window you have the chance to win items of the following sets:
John Hancock's set:






John Dickson's set:




John Adams's set:






For multiple constructions in the event window you may win items of
George Washington's set
:









At the end of the event, the player with the highest number of constructions on his world will win the
Independence hero's weapon set
:




Questline:
Do you know why the people in the USA are celebrating this day in such a special manner? No? Then play our new questline and figure it out!
The questline "A dream about the war" is available for all players who finished the questline "Save the saloon, Part 2". It consists out of 9 quests and will be available from July 4th. For finishing the final quest the achievement "Dream of Independence" is being rewarded.
That's all, enjoy the event!